Movie location of the cult film Lost in Translation
With a flight we went back to Tokyo after five days of snow and sports activities and once again we experienced the great contrast that the mega metropolis offers when you come from the relatively quiet snow area.
THE highlight for the filmmakers and thus our entire team.... We booked ourselves into the well-known and famous Hyatt Hotel in the Shinjuko district for a whole three days to visit the main filming location of the cult film Lost in Translation, following in the footsteps of Bill Murray and Scarlett Johansson. It was only because of this film that Japan rose several ranks as a tourist destination for entire decades and still inspires people worldwide to seek out this country and lose themselves in the streets of Tokyo. The grins on our team's faces were big when we noticed already in the entrance area that everything in this 5-star hotel is still as it was seen in the movie. Already the sounds inside the elevator evoke the first scenes of the movie and the walk through the lobby to the reception, ensures that you already have the feeling to be a part of the movie.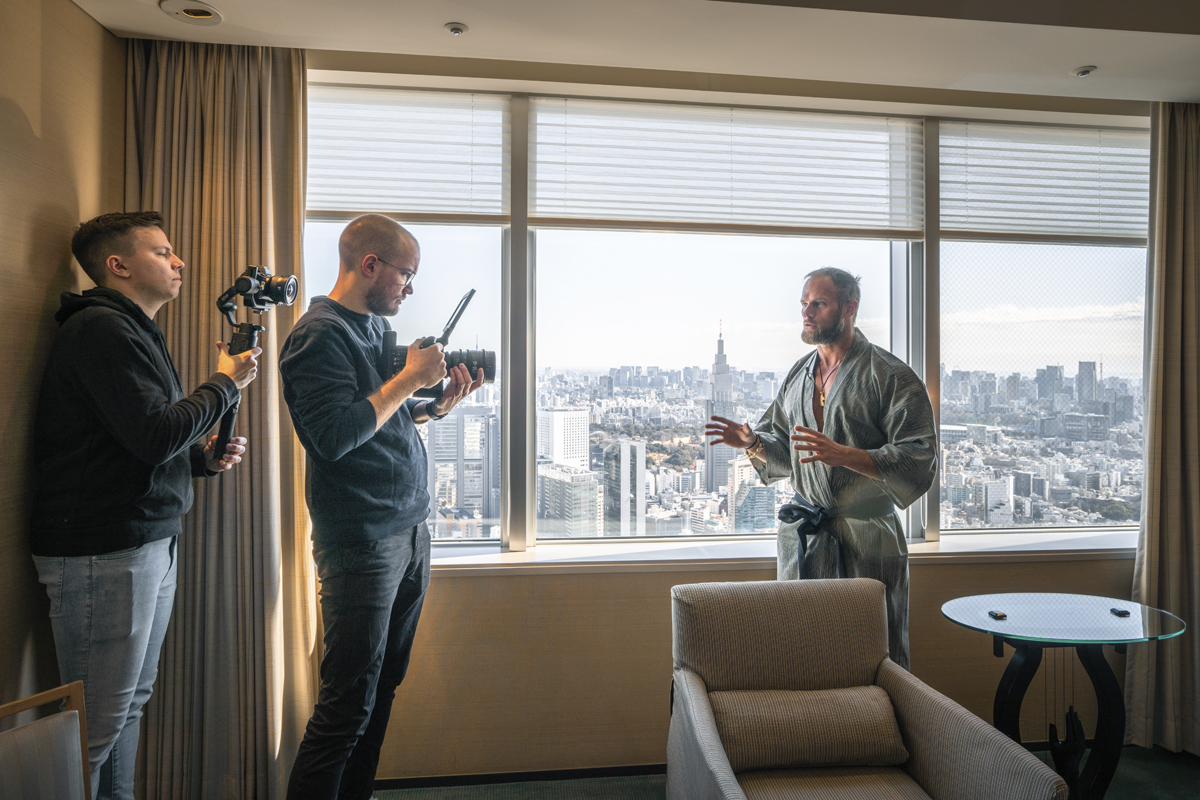 First-class ambience and service at the Hyatt hotel
The hotel has always impressed even neutral visitors who do not emulate the movie with its first-class ambience and service. The rooms offer every amenity and the bar on one of the top floors is a scene meeting and cult place. The dark atmosphere, the smell of whiskey and the international guests make it a daily pleasure to sink in here. The pool area on the top floor and the adjacent gym are also worth a visit, whether you want to swim or exercise as well. Seeing Tokyo at night below while running on the treadmill is an unforgettable moment.
Recreation of movie images at the Hyatt Hotel
The rooms are also still furnished as they once were when Sophia Coppola delegated the filming. Only to our surprise, the furniture had been rearranged for the movie. To re-shoot the scenes, we had to do a bit of shuffling back and forth, and at night we did the filming in the pool. So, we were able to recreate some of the most famous motifs of the movie.
Whether Lost in Translation fan or not, a visit to the Hyatt in the middle of Shinjuko and Tokyo's famous neon mile is an experience and recommended to every Japan traveler and explorer.